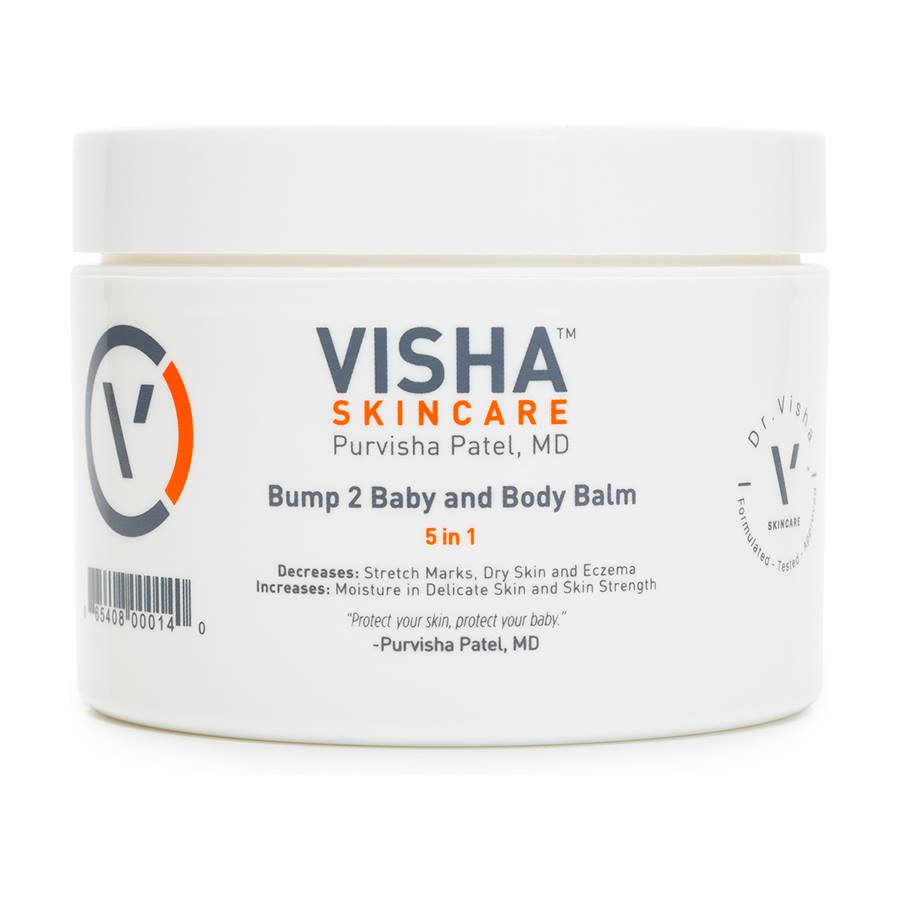 Visha Skincare
Bump 2 Baby
5-in-1 Body Balm
"Protect your skin, protect your baby."
-Purvisha Patel, MD
Bump 2 Baby is formulated for dry and sensitive skin on any individual and is safe to use during pregnancy or while nursing to prevent stretch marks and moisturize the skin during pregnancy and can also be used to prevent and help with eczema in young children.
A multitasking body balm that is five products in one:
• Encourages skin's natural elasticity
• Soothes and relieves dry skin and eczema
• Helps minimize emerging stretch marks
• Moisturizes and protects sensitive and delicate skin
• Helps strengthen thinning skin
All Visha Skincare products are:
✅ Paraben-free
✅ Sulfate-free
✅ Fragrance-free
✅ Hydroquinone-free
✅ Gluten-free
✅ Cruelty-free
Active Ingredients
Rose Hip Oil - reduces redness & inflammation
Sunflower Seed Oil - reduces redness & inflammation
Lavender Oil - reduces redness & inflammation
Shea Butter - promotes the synthesis of collagen and repairs skin
Tocopherol - promotes the synthesis of collagen and repairs skin
---
As Seen In
---
How it Works
How it works for stretch marks

As an expectant mother's belly grows, the skin stretches. Stretch marks (or striae) occur when the skin stretches faster than the body can produce collagen. This causes the formation of cracks in the collagen layer under the skin.  At first, these marks may appear red and can be itchy. This is because when the outer layer of the skin (or the epidermis) stretches, minute cracks in the surface expose nerves to the air, which can result in itching and redness. Dr. Patel, a skin care expert and mother who experienced stretch marks herself, developed Bump 2 Baby with a team of chemists to prevent this process.  Bump 2 Baby addresses the deep, superficial layers of the skin by filling in the cracks and protecting the skin while it stretches and adjusts to the growing baby inside. Bump 2 Baby contains the proper amount of essential oils and emollients that decrease inflammation and, when massaged into the skin every night, helps prevent the formation of the cracks both on the surface and under the epidermal layer. This also stimulates collagen production to fill the deeper cracks in the collagen of the skin. 

How it works for eczema

Bump 2 Baby combines scientifically proven ingredients that can also be used on the small cracks that develop on children's skin as a result of eczema. Eczema, or atopic dermatitis, is caused by a genetic inability of the skin to retain water or its moisture barrier. This makes the skin more susceptible to the environment.  Eczema causes moisture to evaporate off the skin easily, which also results in small micro cracks in the skin's surface, causing redness, dryness and itching. When used directly on the skin after bathing every night, this formula perfectly traps in moisture and gives more strength to the skin. This product has been found to work well in addressing itchy skin and skin breakdown in adults as well.
---
Share this Product
Cleanse and dry skin before use. For stretch marks, apply a thin layer of Bump 2 Baby on the entire abdomen every evening and massage in a circular motion for 10 to 20 minutes. For eczema, apply a thin layer to the affected area after bathing every night. For external use only. Avoid direct contact with the eyes and eyelids. Store in a cool, dark place. 
Aqua, Neopentyl Glycol Dicaprylate/Dicaprate, Tridecyl Stearate, Butyrospermum Parkii Butter, Helianthus Annuus Seed Oil, Glycerin, Tridecyl Trimellitate, Beeswax, Glyceryl Stearate, PEG-100 Stearate, Theobroma Cacao Seed Butter, Cetearyl Alcohol, Tocopherol, Rosa Canina Flower Extract, Lavandula Angustifolia Oil, Cyclomethicone, Dimethicone, Allantoin, Sorbitol, Carbomer, Xanthan Gum, Sodium Hydroxide, Phenoxyethanol, Sodium Citrate, Linalool, Limonene