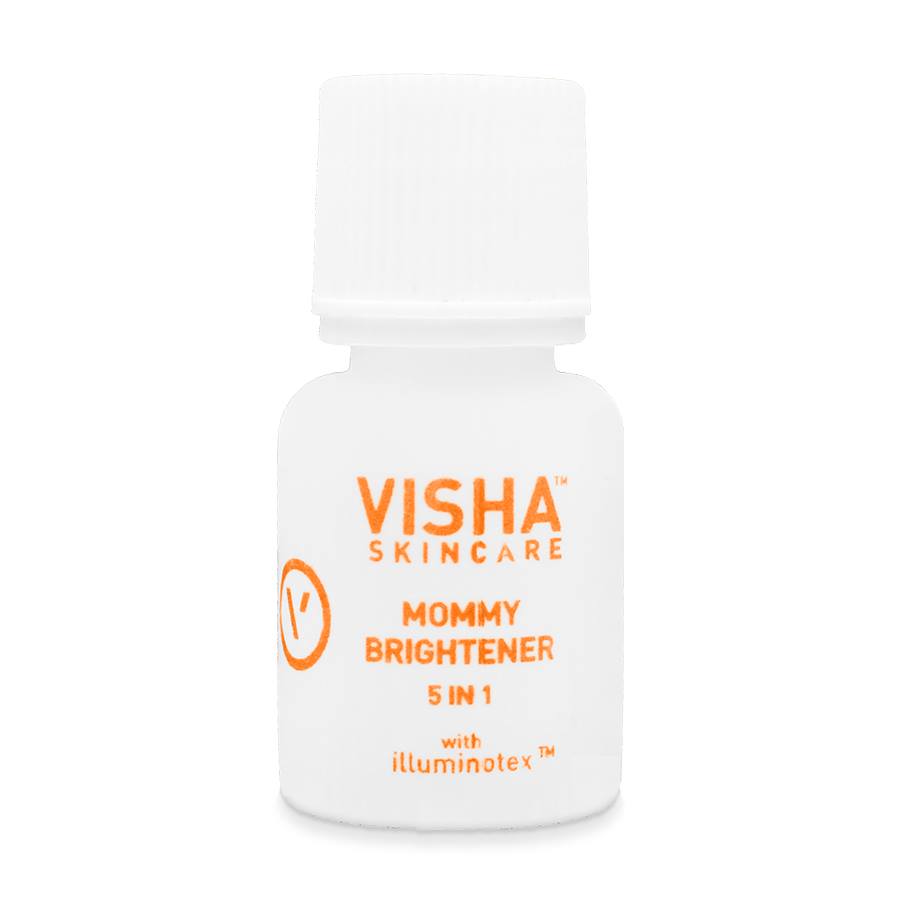 Visha Skincare
Mommy Brightener with Illuminotex-™, Travel Size
5-in-1 Serum
"Beauty is only skin deep. Let me take care of your skin. You take care of the rest."
-Purvisha Patel, MD
Mommy Brightener with Illuminotex-™ is pH-balanced and specifically formulated for dry, sensitive skin and safe to use while pregnant.
Mommy Brightener is ideal for women experiencing hyperpigmentation and acne due to hormone changes. The safe exfoliants in the serum help open the pores that cause acne, and stimulate collagen production to firm the skin. The hydroquinone-free blend helps inhibit the formation of tyrosinase, the pigment forming complex that makes skin coloration look uneven and the safe natural lightening agents also will reveal radiance and clarity to the skin to deliver a brighter more luminous complexion. The serum is fragrance-free, paraben free and has been both formulated and tested by a board certified dermatologist. It is everything you would need for your skin in one bottle during this most important time in your life.
A multitasking serum that is five products in one:
• Dramatically diminishes sun spots and hyperpigmentation.
• Helps soften and correct fine lines and wrinkles.
• Minimizes the appearance of large pores.
• Boosts collagen production.
• Fades the appearance of scars.
All Visha Skincare products are:
✅ Paraben-free
✅ Sulfate-free
✅ Fragrance-free
✅ Hydroquinone-free
✅ Gluten-free
✅ Cruelty-free
Stages of use - due to high concentration of active ingredients, initial and temporary skin reactions may vary.
Active Ingredients
Azelaic Acid - Decreases inflammation and redness
Vitamin C - Stimulates collagen production
Kojic Acid - Antioxidant and lightens skin
Ferulic Acid - Antioxidant
Vitamin E - Antioxidant
Illuminotex-™ - Natural Lightening Agent
---
As Seen In
---
Share this Product
Cleanse and dry skin before use. Dispense 2-3 pumps of Mommy Brightener into the palm of your hand and spread evenly over the face and neck two times a day. This product must be used with sunscreen of SPF 30 or higher during the day to see maximum results. For external use only. Avoid direct contact with the eyes and eyelids. Store in a cool, dark place.
Water, Sodium Acrylate / Sodium Acryloyldimethyl Taurate Copolymer, Isohexadecane, Polysorbate 80, Propylene Glycol, Glycolic Acid, Lactic Acid, Capryl/Capric Triglyceride, Dimethicone, Illuminotex-™ (Kojic Acid, Glycolic Acid, Lactic Acid, Malic Acid, Azealic Acid, Licorice Extract, Sodium Hyaluronate, Niacinamide, Tocopherol, Salicylic Acid), Sodium Hyaluronate, Kojic Acid, Malic Acid, Azelaic acid, Salicylic Acid, Glycyrrtiiza Glabra (Licorice Root) Extract, Niacinamide, Tocopherol, Sodium Sulfite, Sodium Bisulfite, Citric Acid, Phenoxyethanol, Ethylhexyl Glycerin.
Featured Ingredients
Illuminotex-™: A patent-pending, proprietary anti aging and skin-brightening complex that helps address fine lines, acne and hyperpigmentation resulting from hormonal changes during and after pregnancy, as well as photo-damaged skin, encouraging a more even, youthful complexion.

ß-White™: A novel skin-lightening active that inhibits tyrosinase, MITF, TRP-1, and TRP-2.  MITF is a critical factor in melanogenesis. The TGF-ß biomimetic peptide is encapsulated in a liposome vehicle for enhanced delivery. It also differentiates itself from other traditional whitening agents with its unique inhibitory action on the various proteins involved in the pigmentation process. This allows an optimal brightening effect and reduces the appearance of pigmented spots after just 28 days.   

Kojic Acid: Derived from a mushroom fungus; it is a skin conditioning agent that functions as an antioxidant and effectively lightens skin. It inhibits tyrosinase activity, preventing the production of melanin. This action reduces the appearance of freckles, age spots, and other unwanted pigmentation such as photo-aging. It also eliminates free radicals and strengthens cell activity. 

Lactic Acid: A mild exfoliating alpha hydroxy acid (AHA),  derived from milk. L-Lactic Acid can be considered 'the body's own' AHA, as it is naturally produced by the body. By stimulating exfoliation and cell renewal as well as providing moisturization, it provides anti-aging benefits and helps to obtain smoother, younger and brighter looking skin. Compared to other harsh exfoliating agents Lactic Acid has the best therapeutic index (skin renewal versus possible irritation).

Glycolic Acid: A keratolytic alpha hydroxy acid derived from sugar cane, and is one of the most widely used exfoliating agents. Smallest molecule of all the AHA's, it penetrates the skin efficiently, readjusts water percentages in the epidermis, stimulates collagen synthesis and promotes cell turnover to help even out skin tone and improve skin texture.

Malic Acid: Mainly extracted from apples and unripe fruits, it filters toxins and promotes smoother and firmer skin, as well provides mild anti-inflammatory benefits. Considered extremely mild, usually paired with another AHA to boost the keratolytic action.

Azelaic Acid: An organic compound and is a saturated dicarboxylic acid. It is a component of a number of hair and skin conditioners. It can be used to treat acne by killing bacteria that infect the skin's pores. It also decreases the production of keratin and alleviates rosacea.

Niacinamide:  A potent cell-communicating, biologically active form of niacin (vitamin B3) that when used topically helps promote exfoliation. This potent B vitamin has been clinically shown to have extraordinary cutaneous benefits, including improved skin barrier function which helps to lock in andprevent loss of moisture vapor. It is also known to treat uneven skin tone and to mitigate acne and the red marks it leaves behind (known as post-inflammatory hyperpigmentation). An excellent ingredient for those struggling with both wrinkles and breakouts.

Licorice Extract: Consists of glycosides called glycyrrhizin (7%) and glycyrrhizinic acid, triterpenoid glycosides (saponins), flavonoids and isoflavonoids, coumarins, amino acids and a wide range of B vitamins. Licorice Root provides UV absorption protection and natural brightening effects; soothes, calms, and reduces inflammation.

Hyaluronic Acid:  A naturally-occurring humectant that dramatically boosts the skin's hydration levels by holding 1,000 times its weight in water.  Helps to improve the elasticity and firmness within the skin. It occurs naturally in human skin, but the concentration levels decreases with age.

Salicylic Acid: An anti-inflammatory derived from either the bark of a willow tree (willow bark extract) or birch. It is also known as a beta hydroxyl acid (BHA) that provides exceptional exfoliation by softening keratinized barrier cells, as well as providing antiseptic benefits to oily and/or problematic skin.

Tocopherol:  An oil-soluble vitamin E antioxidant. It has a remarkable effect on softening the skin and quelling dryness by helping skin to retain natural moisture levels and preventing cell lipid oxidation.